Missing Pressumed? (I)
Space Babes and Naked Gun: The Big Kahuna are the two adventures that inaugurate a series of articles about those adventures that could have been (or not) great games, but eventually came to be "missing pressumed"…
# Gabriel Sanmartín | Share on Twitter Recomemend en Facebook
The British company Perfect Entertainment (formerly Perfect 10) is now known by most adventure gamers, for creating the three adventure games based on the fantastic worlds of the Discworld and, particularly, it is one of the most beloved companies by the staff of this website. But, apart from these three licensed products, Perfect also planned two totally different humorous adventure games which never actually came to be. Those were:
Space Babes
In April 1998, not long after Discworld II's release, the adventure community learned by the current available media (i.e. printed magazines) about the development of a new adventure from the British people at Perfect Entertainment; an adventure planned both for the PC and the PlayStation. This game, nevertheless, was soon to be forgotten because of its cancellation. In fact, it is most likely that you did not even know about Space Babes before reading this article, but the truth is that the project actually existed, and it was looking very, very good. And only some economical and personal disagreements could prevent it from actually coming to light.
Space Babes was an idea first thought of around 1995, with Chris Bateman (Discworld II, Discworld Noir) and Angela Sutherland (Exec. Producer of all of Perfect's games) and Gregg Barnett (lead designer of all of the Discworld games) involved in the project. After lots of discussions between these three big personalities of the company about the level of hotness of the game, the sexist approach, and, in general, all of its concept, they concluded to go on with the following story overview:
Three Earth-girls are kidnapped for special training at the Space Kadette School, but are eventually ejected for being hopelessly incompetent. For reasons best known to herself, "Mutha" Houston hires the three girls to be her operatives and the Space Babes are sent out to perform tasks of galactic importance. Unfortunately, they rarely solve a problem without creating two more. Eventually things get completely out of hand as they cause a ladder in the stocking of time and have to find a way to get OB1 (Omnipotent Being One) to fix all the problems that they have caused.
The British Dawn Raide (or Penny Sterling, as in previous versions), a rich young woman who lived a life of luxury, the American Krystal (Barbie Ella), a blonde girl who used to work for Ravon Cosmetics as a door to door saleswoman, and the Japanese Yuki Kazan (Sue Nami), an innocent cocktail waitress who entertains dreams of becoming a famous singer, would be surrounded by a big cast of supporting characters such as "Mutha" Houston, the girl's arrogant boss who is responsible of recruiting them as Space Babes, Major Tom, a sad chimpanzee learning sign language at a NASA research facility who is also recruited by "Mutha" and would help the Space Babes in their missions, Babe Clinton, the president of the multiverse, or OB1 (Omnipotent Being 1), a somewhat confused and bored deity figure, suffering from an identity crisis on account of all of the different view of him that his worshippers have.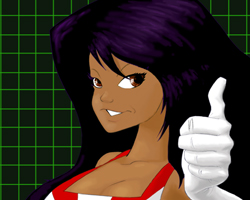 With an obvious inspiration by the classic 70s buddy cop shows, and particularly by Charlie's Angels (as clearly seen in the images accompanying this article), Space Babes was born with the intention of "revitalising the adventure game genre" (as you see, this perennial tagline was also present back then), being a hot adventure game addressed for a male audience but also for cool girls who knew how to laugh at themselves. "We argued about how much the girls should wear for a while –co-designer and exec producer Angela Sutherland comments–. I think Gregg had this really sexist idea about three girls, with very little on, carrying big guns in a manga style, running about in space being stupid. I preferred a more Barbarella concept and I wanted the universe outside the Earth to be dominated by women. Then we agreed I could form a Glam Rock, band and he would do the design… at some point in the far off future. There was a bit of sexual liberty taken but it was more Charlie's Angels in Space than Private Gold.".
Space Babes would have been, had it been made, a classic point & click adventure game in which we would take control over any of the three main characters, all within a visual aspect consisting of hand-made sprites and animations over pre-rendered 3D backgrounds, with over 100 locations and more than 5,000 lines of dialogue (with some famous female taking the lead roles), and an original soundtrack featuring artists such as Björk, the Beastie Boys, Shampoo and Red Hot Chili Peppers. These were the appealing features of this "comedy musical" that was eventually cancelled, along with the project below, in late 1998. There even was a plan to license the characters for a cartoon series!
Naked Gun 2 1/4: The Big Kahuna
The Naked Gun series, created by David Zucker, is well known and beloved by its peculiar slapstick, absurd humour, with parodies of all the famous thrill and action movies. In total three films (The Naked Gun: From the Files of Police Squad!, The Naked Gun 2½: The Smell of Fear , Naked Gun 33¼: The Final Insult) and the original TV series (Police Squad!) make up this series, in which we could also include, because of their similarity, some others like Top Secret or Airplane!
In 1997, all with Space Babes in its pre-dev stages, Perfect Entertainment got interested in this license, and had a desire to make an adventure game based upon the adventures of Lt. Frank Debrinbut with a 100% original story. Such a delicious license would be quite hollow without its most known characters, so the British company decided to hire Leslie Nielsen himself to perform the main role, as he already had done in the films. Angela Sutherland comments on this:
"We signed up Leslie Nielsen and even paid him. We managed to get the license for the game which was not an easy thing for a developer but the deal had a time limit: we had to sign up a Publisher to put the game out by a certain date or we had to hand back the license. We also obtained the rights to use the tune from the film and negotiated a flat fee, which was not something easy.".
Continues on next page
Page 1 of 2